Folk Duo performs original songs
about growing older
Opus 70 is a Southwest Florida-based folk duo. Mark & Barbara Johnston perform original songs – spliced together with a little storytelling – mostly about growing older. Many are humorous. Some are love songs. A few are serious. They all tell a story. They have been described as funny, touching and irreverent.Their new CD, all original material, includes six previously unrecorded songs as well as more than a dozen others. Mark took up songwriting late in life as another means of creative expression. A West Virginia native, he grew up in Roanoke, Virginia and – after graduating from the University of Maryland – spent most of his working life in Massachusetts and Florida. He plays guitar, a little 5-string banjo and mandolin. He and his wife Barbara – she grew up in upstate New York – met singing in a church choir and continue that regularly when at home in Florida. While Mark is the chief writer, Barbara is very much involved in editing, arranging and interpreting songs and provides the close harmonies that distinguish their sound.
Download/Print Bio/Fact Sheet >
Available for House Concerts
& Listening Room Events
Contact: mark@opus70.com
Mobile: 239-450-6494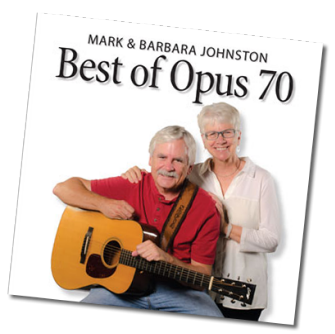 Photo by Ed Nute

Best of Opus 70
CD Liner Notes >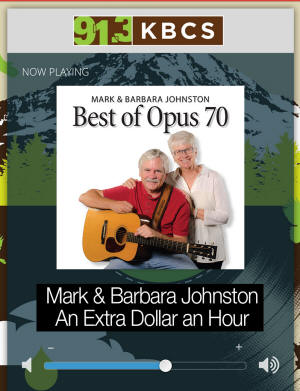 Opus 70 gets Labor Day play on KBCS

Thanks to Auntmama and KBCS Radio Seattle for playing our song An Extra Dollar an Hour on their Labor Day-themed Sunday Folks radio show.

(
kbcs.fm/programs/
sunday-folks/
).


2018 Open Mic Tour & Concerts

June 6 / Open Mic / British Beer Company, Plymouth, MA
June 28 / Open Mic / The Spire Center, Plymouth, MA
July 5 / Opus 70 Concert / British Beer Company, Plymouth
August 22 / Open Mic / Queen City Brewing, Staunton, VA
August 23 / Open Mic / Barren Ridge Vineyards, Staunton
August 27 / Open Mic / The Grey Eagle / Asheville, NC
Sept. 4 / Open Mic / White Horse / Black Mountain, NC
Nov. 6 / Open Mic / Bramhall's Country Store, Plymouth, MA